Construction Testing and Inspection
Reliable results when you need them.
For decades, SK Geotechnical has offered construction testing and inspection throughout the region.  We understand that efficient, reliable testing services are critical during the building process.  Quality control and quality assurance not only confirm that materials and workmanship meet specifications, but also help to keep the project on schedule.  SK Geotechnical dedicates the personnel and calibrated equipment to meet your quality and time demands.
Communication
During construction, it is fundamental that your engineer, tester or inspector communicate results efficiently and effectively.  This serves to confirm that material specifications are being met, and keeps your project moving forward on its critical path. At SK Geotechnical, our standard of communication includes informing our clients, general contractors, and/or subcontractors of the test results on-site as testing is performed, while also providing follow-up communication in the form of calls, texts, emails or personal meetings.  Final written reports can be customized to meet any deadline.  We're always available for questions and discussion of your quality items.
Expertise
In addition to our AASHTO accredited lab, each of our field engineers and technicians hold individual certifications through federal and state agencies, as well as national professional organizations, some of which include the NRC, OSHA, ACI, NRMCA, WAQTC, WyDOT, NDDOT and the ICC.  Safety training and safe practice are paramount in our daily operations.  We stay informed of new materials and best practices in the construction industry and share our knowledge any chance we get.  If your projects need additional expertise, we're always willing to consider growing our testing and inspection abilities.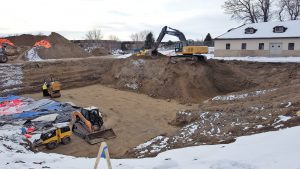 Testing Services
Subgrade observations
Compaction / Nuclear density and moisture
Concrete
Rebar inspection and locating
Slab smoothness and flatness
Masonry
Asphalt
Adhesive anchors, bolt pullout and torque
Spray-applied fire resistive material (SFRM)
Exterior insulation and finish system (EIFS)
Special inspection